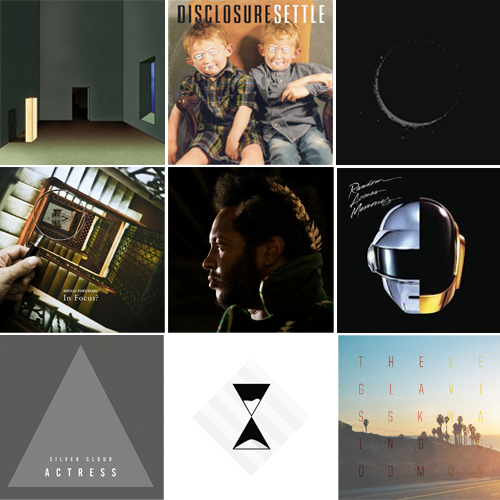 Here's the thing. Made a Top 20 list of my favorite albums this year.
It was woefully obvious.
And since everybody released something this year, my list was just all the big releases (RAM, 20/20, m b v) mixed with any from my favorite artists (Silver Wilkinson, IAMACEO, Beautiful Rewind).
—
favorite albums
So instead of that, here's the four that really stood out with favorite track.
4. Oneohtrix Point Never – R Plus Seven – "Chrome Country"
3. Son Lux – Lanterns – "No Crimes"
2. Disclosure – Settle – "White Noise"
1. Shugo Tokumaru – In Focus? – "Decorate"
—
most 'sonic the hedgehog' album
I've got a running playlist of music that reminds me of the legendary Genesis-era Sonic 1 and 2 soundtracks (by Dreams Come True's Masato Nakamura) or the Sonic 3 soundtrack (by a bunch of people and probably Michael Jackson). Easy winner this year.
Thundercat – Apocalypse – "Special Stage"
—
most mesmerizing song
Heard it once and listened to this song on repeat for about 36 hours straight. Geometric track.
Actress – Silver Cloud – "Voodoo Posse Chronic Illusion"
—
adelaide's favorite
Obviously, there's a lot of old stuff to cover, but as far as 2013 goes, she sure likes to groove to…
Daft Punk – Random Access Memories – "Lose Yourself to Dance"
—
most anticipated for 2014
Levi Watson (Atlanta edition) is way cool. I've been on Neptune all year and can't wait to visit The Glass Kingdom next year. (…may have even gotten to collaborate on this a bit…)
Levi Watson – The Glass Kingdom
—
Listen to most of these here on Spotify. (Thundercat = Brainfeeder release = probably doesn't have a streaming home). Listen to Levi Watson's last album Neptune here.